We Challenge You to Switch from Lab-Created, to All Natural.
Results Guaranteed!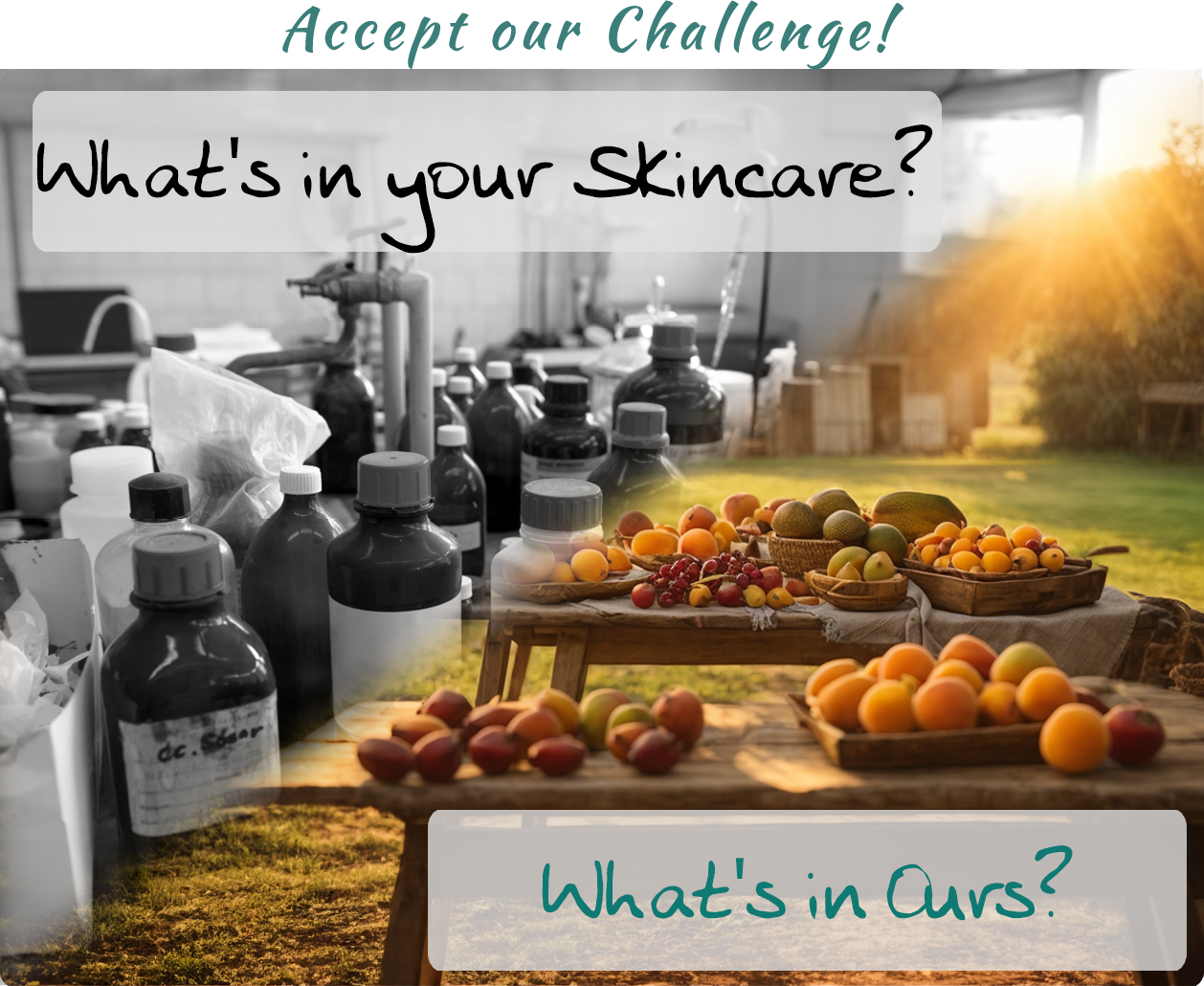 Welcome to our Nature's Purity Challenge! We understand that the world of skincare can be overwhelming with countless products boasting complex ingredient lists. That's why we're inviting you to simplify your routine and take our challenge to experience the unmatched benefits of our single-ingredient, nature-derived products.
We are so confident in the transformative power of our products that we offer a 30-day unconditional money-back guarantee. If you don't see the results you're hoping for or if you're not completely satisfied, simply return the product for a full refund.
Typical Skin and Haircare Ingredients
and why you might not want to use them
We encourage you to check your bottles!
Isopropyl Alcohol: Often used in skincare products for its antiseptic properties, isopropyl alcohol can excessively dry out the skin and strip it of its natural oils, potentially leading to irritation and an imbalance in the skin's moisture levels.

Dimethicone: A silicone-based ingredient, dimethicone creates a smooth finish on the skin but can trap dirt and impurities, possibly leading to acne and skin irritation, while also hindering the skin's natural breathing process.

Mineral Oil (Paraffinum Liquidum): Derived from petroleum, mineral oil can clog pores and prevent the skin from breathing, while its potential impurities have raised concerns about long-term safety and links to health issues.

Propylene Glycol: Commonly used to maintain a product's consistency, propylene glycol can penetrate the skin and may lead to irritation and allergic reactions, particularly in individuals with sensitive skin.

Sodium Lauryl Sulfate: A detergent and surfactant, this ingredient can strip the skin of natural oils, leading to dryness and irritation, and may increase the risk of skin conditions like eczema.

Sodium Laureth Sulfate: A close relative of sodium lauryl sulfate, this ingredient can also disrupt the skin's natural oil balance, potentially causing irritation and dryness.

Cetearyl Alcohol: Although it's a fatty alcohol that can have emollient properties, cetearyl alcohol can be irritating for some skin types, potentially leading to redness and inflammation.

PEG-100 Stearate: Used as an emulsifier in cosmetics, this ingredient can penetrate the skin and may carry impurities with it, raising concerns about its safety and potential for irritation.

Synthetic Fragrance (Parfum): Often a blend of undisclosed chemicals, synthetic fragrances can cause allergic reactions, skin irritation, and may contain harmful phthalates.

Phenoxyethanol: Used as a preservative, phenoxyethanol can cause skin irritation and has been linked to allergic reactions in some individuals.

Methylparaben, Ethylparaben, Butylparaben, Propylparaben: Members of the paraben family, these preservatives can penetrate the skin and have been linked to hormonal imbalances and potential health risks.

DMDM Hydantoin: A formaldehyde-releasing preservative, DMDM hydantoin can cause allergic reactions, skin irritation, and has been linked to health concerns.

Disodium EDTA: Used to stabilize products, Disodium EDTA can strip the skin of its natural protective barrier, potentially leading to dryness and irritation.

Polyquaternium-7: Commonly found in hair care products, this ingredient can cause skin irritation and has been linked to environmental toxicity.

Petrolatum: Derived from petroleum, petrolatum can create a barrier on the skin that locks in moisture but can also trap impurities and hinder the skin's natural breathing process.

Yellow 5 (CI 19140), Red 40 (CI 16035), Blue 1 (CI 42090): These synthetic dyes add color to products but can cause allergic reactions, skin irritation, and have been linked to health concerns in some studies.
Whats in Our Products
Our collection of single-ingredient oils and hydrosols is a treasure trove of beneficial vitamins, nutrients, and essential compounds, all derived directly from nature to enhance your skin's well-being. Each product is meticulously sourced to ensure you receive the purest form of natural goodness.
Our oils are abundant in essential fatty acids, which play a crucial role in maintaining the skin's natural oil barrier, contributing to plumpness and hydration. They are also rich in vitamins such as Vitamin E, a powerful antioxidant known for its ability to help protect the skin from environmental stressors, and Vitamin A, which is often associated with smoother, more youthful-looking skin.
Ingredients like Argan oil and Avocado oil are particularly high in these nourishing compounds, providing a luxurious experience of deep hydration and care. Additionally, many of our oils contain antioxidants, which can help to protect the skin from the visible signs of aging and promote a radiant complexion.
Our hydrosols, including Lavender and Rose water, offer a refreshing and balancing touch to your skincare routine. They are packed with the natural essences of the plants from which they are derived, providing a gentle and soothing experience that leaves your skin feeling refreshed and revitalized.
By choosing our single-ingredient products, you are choosing a world of clarity and simplicity, where the benefits of nature are presented in their purest form. With our 30-day unconditional money-back guarantee, you can confidently explore the range and discover the myriad of ways nature can contribute to your skin's vitality and radiance. Embrace the simplicity, embrace the purity, and let your skin thrive with the beneficial vitamins and nutrients found in our collection.
Visit here to see our Product Comparison Chart
Bella Terra Oils © Copyright. All right reserved.